Halloween 2017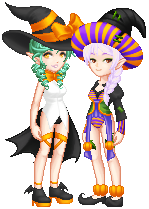 Trick or Treating
Approaching Belinda she would give you a quest, you have to collect 10(?) copper and 10(?) Chili Plants which could be found through scavenging in order to receive a Pumpkin Jar that you could place on your land. Once placed on your land other players would visit you and trick or treat leaving you behind a random candy when they did. You could also collect candy by visiting other players lands and interacting with their Pumpkin Jar's. These refreshed once every hour on the hour. The candy you could get was the following:
Hard Candy, Toffee, Sour Ball, Gum Ball, & Bonbon's

Exchanging Your Candy
Delia Was the event NPC that held the event items store. Once you had collected enough of one candy you could trade it in for items with her.
| | | |
| --- | --- | --- |
| | Delia's Witch Hat | 55 Strawberry Bonbon |
| | Delia's Pumpkin Anklets | 15 Sour Ball |
| | Delia's Tattoo | 30 Strawberry Bonbon |
| | Delia's Jacket | 35 Sucker |
| | Delia's Shoes | 20 Hard Candy |
| | Delia's Cincher | 25 Toffee |
| | Delia's Suit | 40 Bubblegum |
| | Delia's Pumpkin | 80 Sour Ball |
| | Abandoned Castle | 200 Strawberry Bonbon |
| | Spider Mistress Shirt | 75 Bubblegum |
| | Spider Mistress Gloves | 40 Toffee |
| | Spider Mistress Skirt | 55 Bubblegum |
| | Pumpkin Puppy | 500 Luna |
| | Batty Pumpkin Lamp | 450 Hard Candy |
| | Gravestone Decoration | 500 Sucker |
| | Pumpkin Street Light | 350 Sour Ball |
| | Pumpkin walkway light | 200 Toffee |
| | Small Twisted Left Tree | 100 Strawberry Bonbon |
| | Small Twisted Right Tree | 100 Bubblegum |
| | Pumpkin Ragged Mantle | 45 Sucker |
| | Pumpkin Bubble Dress | 100 Bubblegum |
| | Cut Pumpkin Hat | 50 Toffee |
| | Skeleton Beanie | 3000 Gold |
| | Skeleton Gloves | 1,000 Gold |
| | Skeleton Pants | 5,000 Gold |
| | Skeleton Socks | 1,500 Gold |
| | Skeleton Sweater | 4,000 Gold |
Finally a special item was given to every user that logged on before October 31st

Pumpkin Kitty